Production Team
These are the people who with knowledge, skill and dedication help produce the State of the State television show.
Although each team member has a primary role, during any given production, some may play a variety of roles such as host or moderator, director, graphics generator, time and media management, sound and lighting, camera operation, floor manager, studio set assembly and disassembly, etc.. Some members of the team also generate ideas for programs and often develop those ideas into programs.
John Carlevale is the executive producer and director of programming for the State of the State television production. He is also responsible for post production work and the State of the State website. He occasionally serves as host or moderator and fills in wherever needed during production.
John has been with the State of the State production since its start in 1991 and he is the only remaining founder stiil actively involved in the production.
Richard J. August is a retired CPA who spent the last 16 years of his career as a loan workout officer and field examiner for Fleet Bank. After Bank of America took over Fleet, Dick worked as an independent field investigator and a small business workout consultant for Citizens Bank. He holds a Bachelor of Science degree in Business Administration from the University of Connecticut and a Master of Science degree in Accounting from the University of Hartford.
Dick was the chairman of the North Kingstown Audit Committee and is a member of that town's Parade Committee and Charter Revision Commission. He is a member of the Association of the United States Army, West Point Society of Rhode Island and is the Gold Star father of Captain Matthew J. August who was killed in action in Iraq.
For five years Dick wrote a bi-weekly op-ed column, "Curmudgeon's Corner" for the North Kingstown-Exeter Standard Times newspaper. He currently appears as a regular guest on the Saturday morning radio talk show "Lock, Stock and Daria" on WHJJ as well as co-producing and hosting programs on the cable access show "State of the State".
Darlene D'Arezzo began her television career working behind the scenes in children's television.
She then taught yoga in some of the Los Angeles area's most celebrated yoga studios and, as a former contributing editor and writer for Yogi Times magazine, wrote more than a dozen "Kids on the Mat" columns on such topics as yoga and ADHD, childhood obesity, and childhood sleep disorders.
Darlene is a Licensed Practitioner of the Healing Arts with a master's degree in counseling.
Frank Lombardo joined the production team of State of the State in 2007 as a camera person. Since then, he has taken up the duties of graphics generator as well as other duties required for a successful production. On occasion, Frank suggests topics for shows and often assumes full responsibility for development and brings those ideas to full production.
In addition to volunteering his time with State of the State, Frank volunteers his time with Ocean State Clean Cities where he currently serves on the Board of Directors. Frank was the President of Ocean State Clean Cities from 2009-2012. He also volunteers his time with Oceans Aquarium Project where he is the Alternative Energy Technical Advisor.
In addition to volunteering, Frank works full time and is a retired member (Master Sargent) of the Military where he served over 38 years.
Joseph A. Luszcz is a retired Accountant/Operations Manager who spent a combined 30 years of his career with Fleet Credit Corporation and Textron Financial Corporation. He holds a B. S. Degree in Accounting from Bryant University and also received his Associates Degree from the Community College of Rhode Island.
As a parishioner of St. Kevin Church, Warwick, RI, he volunteers as the Chairman of the Annual Christmas Bazaar and currently serves on the Parish Finance Committee. He also works on various Parish Improvement Projects.
In 1990, after 25 years of US Naval Service, he retired as a Chief
Joe has been member of the State of the State Production Team since 2009.
Roy Pruett has been a crew member of "State of the State" since 2003. In addition to his duties as Director and Host for "State of the State," he is very involved in his community.
In 2008, Roy joined the Rhode Island Freemasons. He currently serves as Junior Warden of Manchester Lodge #12 in Coventry. He also directs the public access television show "Spotlight on Freemasonry." Roy recently was appointed as Associate Curator and Librarian of The Grand Lodge of Rhode Island and Providence Plantations in East Providence. In 2010, he completed York Rite of RI and Massachusetts where he serves as High Priest of Scituate Chapter of Royal Arch Masons and National Color Bearer of St. John's Commander of Knights Templar, Providence. Also in 2010 he became a Founding Member of Massachusetts Lodge of Research. Roy is a communicant of Grace Episcopal Church Providence where he is a lector, chalice bearer and docent. Currently he is acting President of Mapleroot Village Homeowner's Association. He is also a board member of Epiphany Soup Kitchen in Providence.
Roy has degrees from the Community College of Rhode Island, Rhode Island College and University of Rhode Island.
Mike Stenhouse is founder and CEO for the Rhode Island Center for Freedom and Prosperity, a public policy think tank. In a prior life, he was an outfielder with the 1986 American League Championship Boston Red Sox! With an Economics degree from Harvard University, and as former small-business owner , an executive with national technology companies and with Rhode Island Special Olympics, and in public relations with a Fortune-500 company, Stenhouse brings ample business experience to his job.
Mike is a Cranston East graduate, where he was an All-State baseball and basketball player. An Economics major and two-time All-American baseball player at Harvard University, Mike went on to have an 8 year professional baseball career with the Montreal Expos, Minnesota Twins and the Red Sox. His teammates have included Gary Carter, Pete Rose, Kirby Puckett, Jim Rice, Roger Clemens, Wade Boggs, and yes ……… Bill Buckner!
For 12 years, Mike was also the television color analyst for Pawtucket Red Sox games on NESN and Cox Sports. Mike is a member of the Hall of Fame for Harvard University Athletics for the City of Cranston, as well as with the Cape Cod Baseball League and the RI Interscholastic League. Mike resides in Cranston with his wife, Wendy, Mike has 3 sons: Garrett, Kevin, and Neil.
RETIRED PRODUCTION TEAM MEMBERS

---
---
---
---
The following section consists of former production team members who have retired from the production for
various personal or professional reasons. During their tenure, they were all valued and productive members of the production team. We miss them all!
Michael Tuttle joined the State of the State production team in 2016. He is a maritime archaeologist and historian with over 25 years of experience and is the manager of the Marine Services Division of Gray & Pape, Inc., a cultural and heritage resource management firm with offices in Providence. Michael has conducted research throughout the United States, the Netherlands, Scotland, the Channel Islands, Madagascar, Ghana, the Dominican Republic, the Caribbean, and the Marshall Islands with the intent of helping local organizations and government agencies to locate and protect their underwater cultural resources.
He is President of the Serapis Project, a historic and archaeological investigation of one of the American Revolution's fiercest ship-on-ship battles (serapisproject.org). Dr. Tuttle has six years of university and college teaching experience, and regularly presents at conferences and various historic and archaeological societies.
Michael is also the producer of Tuttle's Travels focusing on historic aspects of the great state of Rhode Island and their connection to the general public, highlighting local areas of historic interest that are easily accessible by residents of the state. These productions are part of the State of the State archived videos.

In August 2019, Mike left RI to begin a college teaching career in Tennessee. We shall miss him!

Susie Fontaine. Good fortune was with State of the State when on one production evening Susie happened to be in the PEG RI-TV studio, when we were short a camera operator. Susie offered to help and she has been a State of the State production team member ever since. Prior to this, she was involved with two other show productions at the PEG RI-TV studio in camera operations and in producing.
She has been an Office Manager at a local Heating & Air Conditioning Company for fifteen years. Susie is a Certified Energy Healer, Reiki & Integrated Energy Healing Master Instructor. Believe it or not, she is also a Dowser (the person who locates wells with rods and branches). Susie is a Spiritual Guidance Counselor and Sharman and her wonderfully loving spirit is felt the moment she enters the studio.
Anne Gardner has been a member of the State of the State crew since 2009. Anne's
media/communications experience is: columnist for Examiner.com, news director of a local radio station where she also hosted a weekly show, and newspaper reporter.
Anne runs an animal rescue, The Oscar Project for Animals and actively volunteers in the community as a member of RIDART, URI Master Gardeners, The Humane Research Council and also offers her business consulting expertise to local non profits on a volunteer basis.
Anne is currently on leave from State of the State. We all look forward to her return.
Donna Perry has a broad background in government, political and media work that has stretched from Washington, DC to New York and back here to Rhode Island over the past thirty years. She served as a Congressional press secretary on Capitol Hill in the early 1990's, before working as a communications assistant at the Republican National Committee (RNC) in Washington, DC.
Donna's on-air media work has included serving as a reporter and anchor at WPRO News in the 1980's and later as a reporter and anchor at a New York-New Jersey regional cable news channel.
Here at home, she oversaw campaigns and operations while serving as Executive Director of the Rhode Island Republican Party. Subsequently, she served as a media spokesperson and Executive Director for the taxpayer advocacy organization, RI Taxpayers. She currently serves as a freelance public affairs columnist and TV commentator and is active with advocacy efforts for autism spectrum programs and special needs students.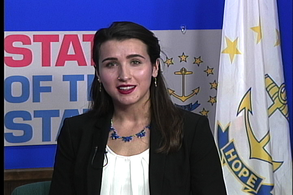 Rebecca Quigley has been an occasional host of State of the State since early 2015. She holds a Bachelor's Degree in Political Science from Rhode Island College, and works as a Family Development Worker with the Early Head Start Program at Children's Friend and Services.
Rebecca is also a certified yoga instructor. During the deployment of her husband to Afghanistan in 2011, Rebecca became involved with the volunteer Family Readiness Group of F-co, 1/126th AVN as the group's secretary. She was later certified by Yoga Warriors International as a trauma-sensitive yoga teacher for veterans.
A native Rhode Islander, Rebecca currently resides in Providence with her husband and son.
Barry Schiller (one of the occasional hosts in the State of the State family) is a retired math professor from Rhode Island College who has long been active in our state's environmental advocacy community.
He is also a long-term member of the State Planning Council's Tranportation Advisory Committee. Barry's suggestions for program ideas enrich the variety and scope of our offerings.
IN MEMORY OF

---
---
---
---
The following section consists of former production team members who have passed away. During their tenure, they were all valued and productive members of the production team. We miss them all!
In Memoriam
Frederick J. Bergemann, Jr.
July 23, 1926 – November 18, 2017
Fred Bergemann of West Warwick was 91 when he died. Fred retired from Narragansett Electric Company after 44 years of service. He continued to work part-time for National Grid for another 22 years. Fred also gave his time, knowledge and skill in service to others as a volunteers in many diverse organizations.

State of the State was fortunate to have Fred as a member of the production team for many years as a camera operator and more. Fred was the oldest member of the production team, when he left at age 81. All who worked with Fred on State of the State had high regard for him. We all regarded him as a gentle giant with a very caring heart and a keen political awareness, and above all else, a devoted family man. RIP Fred. We miss you.
In Memoriam: CAROL ANN MUMFORD
Carol Mumford died on July 19th, following her second bout with colon cancer. The State of the State family and all Rhode Islanders have lost an exceptional person and public servant. Carol was a State of the State host and co-producer.
Carol was also a State Representative, member of RI Republican Central Committee, the Scituate Republican Town Committee, and Republican National Committeewoman. She also served on various Rhode Island non-profit Boards and Commisions. She was both a retired member of the Rhode Island House of Representatives and a retired teacher of English. Her particular interests were health care, state finance and "State of the State."
The State of the State family shall miss you immensely, Carol. RIP
Bruce Lang died on March 28, 2012; he was seventy-six years old. In recent years, Bruce often served as host on State of the State. In previous years, he was often interviewed on State of the State as he was typically on the cutting edge of what was happening in R.I. Bruce Lang is most often associated with being the founder of Operation Clean Government. Bruce often encouraged people to become involved in government matters and to seek election to public office. Most people would reply: I don't know anything about being a candidate. In response to this common refrain, Bruce started OCG's Candidate School as a means to teach people how to run for public office. Bruce has been recognized often as a major leader in the government reform movement. Above all, he believed that government could function better and serve the people well, if enough competent and fair-minded people became involved in government matters. Bruce Lang is survived by his wife and two sons; a sister; one grandchild; and many friends and associates, including the State of the State production team. Click on the image to view a sampler of Bruce Lang interviews.

In Memoriam: Don Gill
Don Gill died on June 3, 2010 at age 77 of kidney failure following heart surgery.

In 1992 Don Gill, along with John Carlevale; Joseph Devine; and Robert Plante, established State of the State. He left the production in 1998 to retire in Florida, but maintained an active interest in the production from afar.

Don was a Marine; Korean War Veteran; and Plaintiff in two Federal Court cases concerning the inequities in the Rhode Island Election Laws and Ballot Access. Don was an astute political analyst and political activist. He was a candidate for Mayor of West Warwick, for Governor of Rhode Island and for US Senate. He was a great conversationalist and writer, having had several accounts of his experiences in the Korean War as well as his very first poem published. He was a participant in a Documentary on the Korean War produced by a Canadian documentary company.
He is survived by three adult children; six grand children; two great grand children; two brothers; and many friends and associates. He is predeceased by a daughter.

Don Gill's State of the State co-founders, along with many others who worked with him to produce State of the State, shall miss him immensely. The candidate debates conducted each election year on State of the State have been named in his honor: The Don Gill Memorial Debates. Rest in peace Don Gill.